We at ICI Homes want to build a home that truly fits you. Giving potential clients the opportunity to sit with one of our designers to discuss floorplans, or brainstorm design problems, is how we've done business for almost four decades.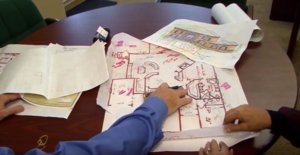 But, it's not how many of our peers do it.
"Nine out of ten builders in Jacksonville and in most of the state of Florida do not do customization," says Don Wilford, president of ICI Homes' Custom Home Division. "A small custom builder who builds just 10 fine homes a year can do that. But we're a company who builds over 600 homes a year."
So, how can a large homebuilder continue to prioritize customization? By doubling down on its history of listening to clients, tweaking floorplans, and completely redesigning when applicable — often with no additional cost.
Wilford, aka "Chief Customizer," is helping his co-workers in all ICI Homes divisions re-prioritize that mission. His North Florida team leads the way in turning potential clients into happy buyers when those clients can't find a likable floorplan, or have what they think is an unsolvable issue.
Activating Our Intentions
Wilford meets with over 100 potential buyers during the year — all of whom liked various ICI Homes communities, but weren't sure about the homes. Wilford says he listened to those clients, took their feedback and information and drew conceptual plans to illustrate possible solutions.
"They didn't believe that it was that simple for us to sit down and listen to them and do what they want," Wilford says. "And half the people who came in, when they left, they said, 'I'm so glad I came. I almost didn't come. I didn't believe it.'"
This philosophy is now being duplicated by other team members in other divisions. While North Florida Chief Operating Officer Joe Blanco keeps Wilford updated day-to-day, the latter is free to take ICI Homes Chairman and CEO Mori Hosseini's recent mandate to teach other divisions how to better customize, and run with it.
Why do you, a potential home buyer, need to know this?
If you're a homebuilder who could sell an additional 150-200 homes a year by helping confused and frustrated clients figure out how to make one of your floorplans work for them — instead of walking away — wouldn't you make that effort?
Of course you would. Not only would you sell 150-200 additional homes, you'd also garner genuine client satisfaction — and priceless word-of-mouth recommendations.
"This is something that if I had a legacy, it would be to duplicate this strategy to all of our divisions," Wilford says.
The Future of Customization is Now
As part of Wilford's "Chief Customizer" role, he's traveling to other divisions to meet with clients choosing an ICI Homes floorplan, or those who don't know what they want. He also meets with realtor groups to spread the word about ICI Homes' customization advantage.
"You reach a point in your career, particularly with me, where it's not about money anymore," says Wilford, an ICI Homes employee since 1995. "It's about creativity and raising the bar and watching your people learn what you've learned."
Another key component? Technology! Wilford and his peers are working toward using live video meeting apps and services such as FaceTime, GoToMeeting and Skype to make customization meetings even easier for potential clients.
Ready for your customized home-buying experience? Talk to us here.