Custom Home Builder, Daytona Beach, FL
ICI Homes has built thousands of custom, unique homes throughout the state of Florida for nearly 40 years, but the Daytona Beach area is own home-base. This is where it all began and we would be thrilled to guide you through the process of building your dream home in this special area.
The Daytona Beach/Ormond Beach/Palm Coast area has experienced an incredible growth spurt in the last several years. In years past, this area had been known for its rural feel surrounded by bigger cities such as Jacksonville and Orlando. While this area still has its original small-town charm, shopping, medical, business and recreational activities have found their way to this interesting and unique area in Florida.
We offer single-family or estate sized homes to meet your needs and custom home desires. Choose from a 1,650 ft² Fontana floorplan, to the lavish 3,447 ft² Isabella floorplan, and everything in between. You can customize any of our available plans to create your dream home!
To date, ICI Homes has built 1000's of custom single family homes in Florida and the Volusia/Flagler (Palm Coast, Ormond Beach, Daytona Beach, Port Orange) area with homes ranging from palatial estates to one-of-a-kind homes in private communities and rural areas. ICI Homes has built its reputation one home at a time.
Ormond Beach
Ormond Beach is a small city with a beach-town feel. Abundant nature trails, parks, waterways and other recreational activities are home to this interesting place.
Throughout this interesting area, lots, or pieces of land upon which to build a home, are available in some of the most beautiful areas. We can build your home between the river and ocean, known locally as "beachside" or in many of the "mainland" areas in the city.
Palm Coast
A short drive north from the Daytona Beach / Ormond Beach area is Palm Coast. This is a quiet, interesting place to call home. Only thirty minutes from the Daytona International Airport and just an hour from Jacksonville, Palm Coast in a perfect blend of tranquility and convenience to everything.
If you're looking for off the beaten path with an easy drive to Daytona Beach's offerings, Palm Coast offers plenty of areas to build your new custom home.
People who build in Palm Coast are attracted to the tranquil town and quiet beaches and extensive network of fitness trails and parks, attract folks to this tranquil town. Grand Haven, is one of the many places build on your lot. Click here for details on our build-on-your-lot program.
No matter where you choose to call home in the Daytona Beach/Ormond Beach/Palm Coast area, ICI Homes is the right builder to expertly walk you through the process, building a custom home in a way no other builder can.
New Custom Home Spotlight – Daytona Beach, FL Area
---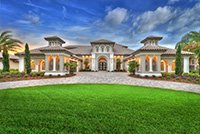 The Elizabeth – Ormond Beach, FL Custom Home
Grand, exceptional living is achievable in the Elizabeth. This expansive custom home was built to include every convenience. Immediately…
Learn More