Custom Homes, Jacksonville, FL
ICI Homes is an award-winning sought-after custom home builder in Jacksonville, FL. Our philosophy is to never compromise integrity and always deliver exceptional quality. As a result, we are consistently ranked among the top 100 home builders in the United States. ICI Homes has been at the forefront of the Jacksonville custom home building industry as a standard bearer of excellence. We take pride in spending one-on-one time with you. We use that time to learn about your specific needs in order to build your uniquely customized new dream home.
Together, ICI Homes and Don Wilford have built custom luxury homes on some of the most prestigious lots in Jacksonville, Florida. These lots are in highly-desirable areas including Pablo Creek Reserve, Glen Kernan, Queens Harbor, Riverfront, Waterfront, and Ponte Vedra, among others.
What Kind of Custom Home Do You Want to Build?
We offer single-family or estate sized homes to meet your needs and custom home desires. Choose an open floor plan such as our Brooke, or the Augusta (one of our largest floorplans at 4,136 ft²), or anything in between. You can customize any of our available plans in the Jacksonville area to create your dream home! As long as your home meets our minimum square footage and fits on your lot, we can make it happen.
Where Can I Build My New Custom Jacksonville, Florida Area Home?
You can choose to build your new custom home in, or near any of our area communities. This includes the Amelia Island, Fernandina Beach, Yulee, Jacksonville, St. Johns, Ponte Vedra and St. Augustine areas. Feel free to schedule a no obligation, complimentary consultation to get the complete details on where we can build your new home.
"After searching for a custom home solution for a long time and being disappointed by another builder, we were about to give up when Yohan called me. I was quite surprised about how simple and efficient the design/build process was from our first consultation to receiving a plan design and cost to build it from Don and Yohan. In about three weeks, we had arrived at a point where we were comfortable signing a construction agreement with them. We would do it again without hesitation.

Our dream home is located in an historic district. Most builders would shy away from that due to the rigorous process in getting it approved, but Yohan and Don welcomed the challenge. The process was completed seamlessly and without incident on the first go around. We are happy that we did not give up and chose to partner with Don and Yohan to build our dream home."

Merrick Wade, Jacksonville Historic District
New Custom Home Spotlight – Jacksonville, FL Area
---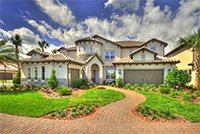 The Brooke – Jacksonville, FL Custom Home
There is so much character in the Brooke. This well thought-out home encapsulates the Florida sunshine and uses it to open the home with…
Learn More