You're ready to build your new custom Florida dream home and eager to partner with ICI Homes Custom Homes to make it happen. Bravo! We've built more than 10,000 custom homes all over the state for four decades, and our pros are ready to tackle yours.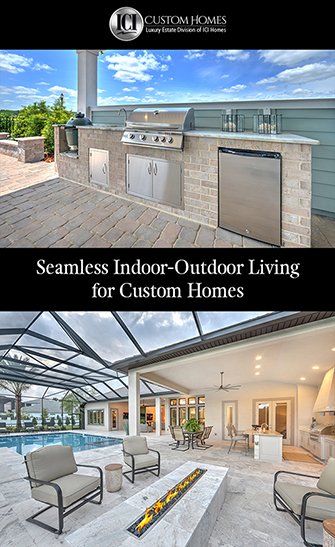 But first, we're happy to pass along a few helpful tips for one of the top elements in new custom Florida homes — outdoor living.
Florida's temperate climate means you can enjoy outdoor living spaces year-round, not only during the warmest months. It's a lifestyle you're probably ready to embrace, and there are some practical considerations for optimizing it, especially in a custom home.
Here are our tips for seamless indoor-outdoor living.
Sync the kitchens
The summer kitchen is a Florida hallmark A built-in grill with counter space may be all you need. Or — since it's your custom dream home — maybe full-on prep space, bar and sink, and storage cabinets.
Our tip here involves saving time and effort. Make sure your outdoor summer kitchen is handy to your indoor kitchen. For example, you'll likely still need the indoor kitchen for items such as appetizers that should wait in the big fridge until ready for outdoor dining.
Why make fetching them, or anything else, a long-distance inconvenience? Get your daily steps in another way.
Include a cabana bathroom
ESPECIALLY if your custom-home outdoor living space includes a swimming pool.
A cabana bathroom is your standard sink-toilet-shower/bathtub combination,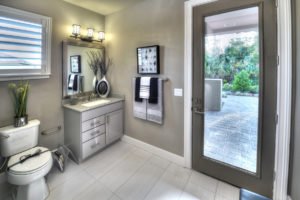 but sited with both an indoor entrance (say, for a guest room) and an outdoor entrance (for soaking-wet swimmers).
As with kitchen proximity, it's a super-handy design choice. Your mop bucket will thank you.
Maximize indoor and outdoor vistas
Whatever you envision for your new custom outdoor living spaces, you want them to enhance your indoor spaces. Expansive sliding glass doors and windows make accessing your outdoor spaces a breeze. They also visually meld interior and exterior views.
Planning a fountain or decorative pool spray? Both can be a beautiful backdrop to an interior living area. The same goes for attractive landscaping, outdoor furnishings and nighttime lighting.
Don't forget the screens
If you haven't spent time in Florida, you may wonder why screened-in pool cages are everywhere here. Quite simply, they're a necessity.
In Florida, your outdoor living space can become a wildlife habitat without protective screening, particularly if you incorporate a pool or build near ponds and lakes. If you forgo a pool cage, be sure to surround your new outdoor living space with some type of fencing. We've all seen those videos of folks fishing critters out of their pools — and it's not funny when it's you.
And, while open-air porches, patios and lanais are as sublime unscreened as screened, they're also a bit more pleasant without insects. Admire those swooping dragonflies from afar!
Ready for your new custom Florida dream home? Talk to ICI Homes here.