Did you know that we employ a magician?
That's right! Someone who can work blueprint magic when a potential client can't find, or articulate, what they want in a new home.
To their rescue rides in Don Wilford, our Custom Home Division president based in Jacksonville. Wilford is a customization guru who specializes in salvaging clients' home-building dreams. He does it by listening, asking detailed questions and answering questions. Then, it's (literally) back to the drawing board to produce a floorplan tailored to eliminate clients' frustrations.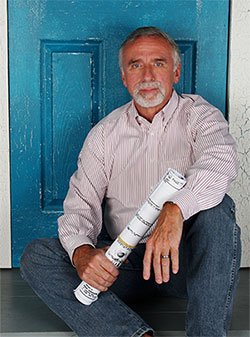 "When I listen to my customers tell me what they want — they can't visualize what it's going to look like — but if they tell me what they want, it's my job to create a plan," Wilford says. "When I sit down with them a few days later to go over it, I wow them from the aspect that I put on the plan everything they asked for. Then, they can see."
Wilford's dedication to customization is hard-won throughout decades of service. But, since it's also an ICI Homes hallmark, the veteran division president is intent on taking it to the next level.
Here's his story (and why you should trust him with YOUR home-building conundrum).
Who's Don Wilford?
The Dayton, Ohio native is a third-generation home builder. He moved to Florida in the 1980's with his family including wife, Lou Ann, Don's high school sweetheart. They also have two sons active in the business — a fourth generation of Wilford home builders.
Wilford began his career by working for his father, a residential home builder in Ohio.
"I was first exposed to multi-family construction for first 10 years," he says. "That taught me a lot of discipline and being able to work under a fast-paced environment."
A half-decade stint in high-end construction followed. After that experience, Wilford entered residential construction, where's he's spent nearly three decades.
How'd he get here?
Wilford's considerable experience in residential construction coincides with his move to Jacksonville. He began his ICI Homes career in 1995 as the director of construction for the North Florida Division. He became division president two years later.
During his time in "JAX," he has expanded ICI Homes' longtime emphasis on customizing homes for potential clients.
Recently, with the blessing of Chairman and CEO Mori Hosseini and other company leaders, Wilford has turned over day-to-day leadership of the North Florida Division to its Chief Operating Officer, Joe Blanco. While he stays in tune thanks to Blanco's daily updates, Wilford is freer to lead a fresh, company-wide charge on customization.
Why he loves customizing client homes
Let's return to that family upbringing in the home-building business.
"Being a third-generation builder and watching your father draw blueprints before computers were out was kind of an inspiring thing," Wilford says. "So as a young man in my teens, I would draw homes that would probably never be built because the work was that bad, but it gave me practice to see what you could do with the lines, and it just developed that 'there's nothing you can't do' with a house."
His epiphany came during his first year in residential construction, while working for another builder. A couple searching for a home from Wilford's then-employer, couldn't find a floorplan they liked. Rather than see them walk away frustrated, Wilford says he asked them to select features they did like from several different floorplans.
"I still remember the couple," he says. "They said, 'well yeah we would love to have it, but how do you do that?' I just created a plan for them."
Needless to say, those potential clients quickly became happy home buyers. And Wilford's career mission was set.
"That showed what you can do," he says.
Ready for a customized ICI Homes' experience? Talk to Don Wilford here.