Building a new custom Florida home with ICI Homes is the best way to get what you want. There's no living with a previous owner's tastes, or debating the dilemma of remodeling.
You get the house that's right for your household, in your preferred location. With a builder that delivers.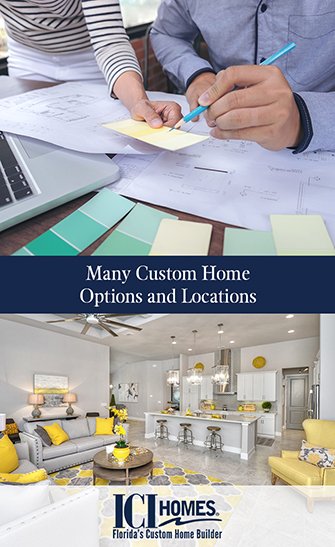 ICI Homes has built new custom Florida homes all over the state for more than 40 years. We're known as Florida's Custom Home Builder and we move walls!
Every ICI Homes potential customer has the opportunity to schedule a complimentary customization consultation with one of our floor plan designers. This person will help you select a plan, and make the customizations you want.
The customization consultation is available to all customers in our master-planned communities, in communities where we're preferred builders, or on one of our estate lots in select communities. Plus, we also can build your custom Florida home on a lot you already own.
Read on for the details.
Customization eliminates competition
As a reminder, today's hot residential housing market makes it more demanding than ever for folks seeking their new custom Florida home.
People want to enjoy the Sunshine State's marvelous climate, outdoor lifestyle and natural beauty. They also want to do it in or near cities that boast a bustling economy, good job market and active social, cultural, sports and arts scenes.
When you build a custom home, you can forget chasing listings, sweating offers, and putting together Plan Bs.
On-your-lot custom builds
If you own a lot in one of the many regions where ICI Homes is active, you're in luck! We build in northeast Florida, east central Florida, Gainesville and the Tampa Bay area.
Contact our ICI Custom Homes division to get started. Schedule your customization consultation and bring your lot's survey to the meeting.
Want us to build your new custom Florida home but need a lot? No problem. As longtime Florida home builders, we know the industry and can work with real estate agents, landowners and developers to help you find your lot.
Ready for your custom Florida home? Talk to ICI Homes here.