We at ICI Homes can customize the new Florida home you'd like to build, and you want us to do exactly that. What happens next?
Regardless of where you are in the decision process — bewildered about what kind of home you'd like, or already specific about changes to a certain floorplan — we can take you the rest of the way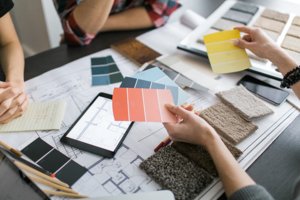 design-wise.
You, tapping our expertise to get what you want in a new custom home, is why we're here. Read on for a primer to our worry-free customization process.
Why have us customize?
ICI Homes has built new homes throughout central Florida for almost 40 years. We're one of the nation's largest homebuilders and customization is one of the things we do best. That doesn't mean forcing clients to squeeze into new homes they "sort of" like, or to "make do" because we offer only a set number of floorplans and refuse to alter our construction timetable.
No, it means one of our designers brainstorming with you about ways to tweak a floorplan you like, or, to help you choose one that fits your family's lifestyle.
"There's no excuse if a customer comes in and says 'we don't like what you have to offer,'" says Don Wilford, president of ICI Homes' Custom Home Division. "We can come up with something. Most builders can't do that. You build their plans. If you want to move a window, they're not going to let you move a window. They're just too structured on turning out the numbers."
What can we customize?
The best answer is to ask another question: what do you want customize? From simple tweaks such as enlarging a kitchen island to giant square-footage additions, almost anything's on the table and much of it is totally doable.
"In this process, there's no catch," Wilford says. "You can meet me or any other representative of the company for no obligation to sit down and brainstorm and discuss what you're looking for."
How do we customize?
In Jacksonville, Wilford and his Custom Home Division team function as the customization gurus for ICI Homes. They love meeting clients and hearing their stories and requests. During Wilford's more than two decades with the company, he's helped clients customize floorplans for everything from $150,000 homes to $6 million homes.
But, "customize" doesn't mean "top dollar." Per Wilford, many happy ICI Homes clients are taking the customization plunge on homes in the $200,000-$300,000 range. Why? Because you can do things like move load-bearing walls for free at the beginning of the design process.
"On our more expensive homes, 80% of the home is always customized," Wilford says. "People know they can do it. On homes (in the $200,000 range) you'd be surprised — at least 40% are customizing."
Why settle for a home that doesn't quite work? Why retreat to another builder's cookie-cutter community across the street? Come on in! Make your design consultation appointment by phone, or fill out our quick online request.
"Let us put our money where our mouth is," Wilford says. "Let us show you what we can do to customize your home and show you how little it does cost, for any style home."