For nearly four decades, ICI Homes has designed an extensive library of more than 100 floorplans. Many are award-winners and client favorites, but none are static. That's because the ability to customize each of those plans to fit an exact buyer, is one of the traits that defines ICI Homes.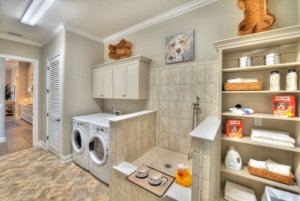 In fact, allow us to prove it to you!
Have you targeted one of our communities? Perhaps a specific plan you'd like to alter to fit your household's lifestyle? That's what we're about. Our plans already contain the option to include certain popular additions such as bonus rooms, cabana bathrooms, summer kitchens and "flex spaces" that can become playrooms, home offices or any other usage you desire.
It's the pet spas, extra cabinets in the laundry room or mudroom cubbyholes that you're unsure you can include without expensive fees. Chances are that you can! That's also why we urge you to schedule a customization meeting. Our designers will sit down with you — for free — and discuss your homebuilding needs and wants.
Here's how to prepare for your customization meeting.
What am I doing?
Our Custom Home Division president, Don Wilford — also known as ICI Homes' customization guru — says clients often get confused about the purpose of a customization meeting. They think they're picking paint colors, or that "custom" means "out of my price range."
No! Instead, they're discussing their house likes and dislikes with someone like Wilford who can translate those requests to an existing ICI Homes floorplan, or fashion a new one. He admits he gets a lot of "you can't do that" from bewildered clients during customization meetings.
"And I always say, 'the house isn't built yet,'" Wilford says. "'We can put the load-bearing wall wherever we want.'"
How do we do it?
First, you make an appointment with one of our design specialists. ICI Homes has three convenient design centers — in Jacksonville, Orlando and Daytona Beach. For fun, let's say you're interested in an ICI Home in Jacksonville and want to meet with Wilford.
Call us, or fill out our schedule a consultation here. Our sales professionals will ask you for helpful information, then get you scheduled for your customization meeting.
Second, bring all your inspiration — those photos, magazine clippings, Pinterest boards. Include your list of must-haves and things you definitely don't want. If you know you like a certain ICI Homes floorplan but would like to make some changes, have that list handy, too.
Don't strain! Make those notes on your notes app or in an email or text to yourself, and include links to online photos. There's no need for a jam-packed folder of papers unless you'd like to bring one. If so, Wilford will be happy to browse it with you.
This is your awesome (free!) opportunity to tap the resources and experience of a third-generation homebuilder in Wilford, who has helmed our North Florida Division since 1997.
"That's satisfaction that when we create something that nobody else does, that's the buyer's satisfaction and that's ours," Wilford says. "We love to be challenged."
Ready to challenge our customization guru? Talk to us here.