How badly do you want to build your dream home?
Fortunately, most of us don't have to run reality-TV gauntlets when it comes to choosing a community for our next new home. But sometimes the difference between adequate and awesome does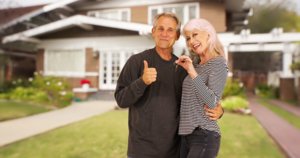 require extra effort — let's call it communication — between buyer and builder.
ICI Homes has a long tradition of customization — the willingness to re-tailor floor plans to buyers' needs and wants — so we're sharing an example of why it's important to listen to clients and help them attain their dream home.
The president of our Custom Home Division, Don Wilford, is our "Chief Customizer." He's a third-generation homebuilder with a history of listening to and guiding clients, and a cheerful proponent of the phrase, "where there's a will, there's a way."
That's why he's so enthusiastic about the free meeting available to all potential ICI Homes clients. Anyone who likes one of our communities, yet has questions or design hesitations about our floorplans, can meet with a designerand brainstorm solutions. Often those solutions are cost-free or low-cost. Just give us a chance to help you.
"Time will never get in my way," Wilford says of the customization consultations he conducts with prospective clients. "It's always price. Sometimes people have caviar tastes on a beer budget and I can't do much with that. But if they're able and willing…"
Here's an example of "able and willing."
The Frustrated Buyer
Several years ago, Wilford received a phone call from a Jacksonville, Florida-based doctor. The doctor wanted to chuck his old home and build a new one. So Wilford set up a meeting. The doctor arrived with multiple plans drawn for him by other architects. And major frustration.
His dilemma? He'd spent thousands of dollars on architectural drawings over the two previous years, but couldn't find a home he liked. And he still couldn't quite articulate what he wanted.
"A lot of people can't visualize blueprints or plans," Wilford says. "So I always ask the buyer, 'can you visualize?' You have to get them to understand. But we want them to know, this is their free-no-obligation. Ask us whatever you've always want to ask."
Wilford prescribed homework. He directed the doctor to several home-design websites, asked him to peruse them and print out features he liked, then return for another meeting.
"I thought I would never see him again," Wilford admits.
The Light Bulb
A month later, the doctor returned — with his wife — for another brainstorming session with Wilford. The couple brought a three-ring notebook filled with printouts of homes, features and architectural elements they liked.
Bingo! The notebook's contents spoke for them.
"He didn't know how to articulate what he wanted, but he gave me everything," Wilford says of the doctor's inspiration. "I said, "okay, go away, come back next week and I'll have a plan for you.'"
The Takeaway
When the couple returned a third time, Wilford presented them with a new floorplan that incorporated their wish-list elements. He went over it with them, describing each room as he'd drawn it, then referencing it to the specific homework printouts in their three-ring notebook.
"There's a lot of work for a builder to have go through that, but that's what we do," Wilford says. "And if builders are too good to have the discipline to speak to customers that way, they shouldn't be in the business. We do that all the time."
Ready for your customization consultation? Talk to us here.